The ongoing climate crisis and the Covid 19 pandemic are nature's warnings to humanity that we cannot continue to treat the natural world as nothing more than resources to exploit and the land and ocean as dumping grounds. Human beings are literally devouring Mother Earth and pushing ecosystems and the delicate and exquisite balance on which all life on Earth depends to the brink of collapse. Our actions are putting at risk our health and the health of our planet. Scientists have been warning us for decades about the stresses we are placing on the natural world and the dangers those pose to all life on Earth.
So called wet markets, which is where live animals are traded for human consumption, have been implicated in previous outbreaks of coranoviruses, in particular, Sars, and now, the Covid 19 pandemic. Wet markets include endangered species such as pangolins, which are part of a massive worldwide illegal wildlife trade. Experts are warning that pandemics will only worsen if we continue to exploit animals. Both the UN and the European Food Safety Authority (EFSA) have linked animals from wet markets and factory farming, also known as industrial farming, with causing new infectious diseases in humans in the past decade. As at May 10 2020, Covid 19 has killed more than 270,000 people worldwide.
Any positive environmental impact we are currently experiencing, including improved air quality and reduced greenhouse gas emissions will be only temporary unless we address our consumption and production habits. These must be changed towards being sustainable, clean and green. Only long-term systemic shifts will impact the rising trend of carbon dioxide levels in the atmosphere, which, if that trajectory continues – will push us towards an unlivable planet. Climate change is causing the ocean to heat, disrupting marine life and the jet stream. Scientists have linked fluctuating jet streams caused by climate change with an increase in severe weather events, including drought, heat waves, hurricanes, cyclones and typhoons. Were the ocean to die – we would all die. Every second breath is from the ocean: In addition to providing more than half of the world's oxygen, it drives and modulates the Earth's weather systems and atmosphere.
The UN's environment chief, Inger Andersen, has called for a profound, systemic shift to address the crisis we have caused. The benefits in air quality and reduced emissions that have come about in response to the Covid 19 pandemic are temporary – and have come about with enormous human suffering and economic collapse. Overnight, our lives have changed. Thousands have died. Millions are without work. Vulnerable communities without access to clean water and health care are most at risk.
We need a more sustainable economy that works for both people and the planet. Any lasting positive environmental impact must result from changing our production and consumption habits towards being cleaner and greener: Only long-term systemic shifts will change the trajectory of CO2 levels in the atmosphere. We must seize the opportunity presented in managing the Covid 19 pandemic crisis to build a better future. The Covid 19 crisis has seen a number of innovative digital platforms emerge to keep us connected – both in our personal and work lives. Let's build on that to move forward working together as a global community to make a green revolution a reality, where there is minimal waste and where we have a circular economy. We are now ideally placed to take ownership of our future, to live according to our needs, and within planetary boundaries. We have an opportunity in creating this green revolution to address inequities, where we are all empowered and have the opportunity to flourish.
Taking care of the planet equates to taking care of ourselves.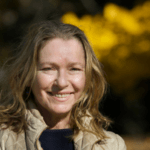 Joëlle Hervic is CEO of Human Dimensions TV and Rainbow Crow Productions. She is an environmental attorney, lawyer and advocate and passionate about Mother Earth and advocating for the rights of people and the planet. She has worked on several continents that has included making a case on behalf of the community in Ecuador on the right to water. Wishing to communicate to a broad audience the need to take global action to address climate change, and to restore health to the planet and to ourselves, together with Human Dimensions TV and Rainbow Crow Productions colleagues, award winning Creative Director, Mark O'Brien and under the guidance of Gary Dorr, Native American Technical Advisor and Consultant, screenplay "Journey Home" was born. Written by Mark O'Brien, "Journey Home" is an award winning screenplay that inspires action and sounds a warning from the future about our present path that is threatening the health of the planet and the survival of all life on Earth. "Journey Home" reconnects us to indigenous wisdom and understanding that our own health is inextricably linked to planetary health and that we are all warriors . It helps us understand that our destiny is in our hands and that we have the power - and the responsibility to future generations - to shape our future.