Black Lives Matter. Coronavirus. Inequality. Sixth Extinction. Exploitation. What do these seemingly random and unrelated terms have in common? Everything.
As of July 16, 2020, Covid-19 has resulted in the death of 585,000 people and the infection rate continues to surge. The United States is the biggest source of new infections, where the number of daily global cases is breaking records, and where the response by the Trump administration has ranged from non -existent to criminally negligent. The absence of global health care has exacerbated this administration's failures, resulting in the tragic loss of lives and the upending of millions more.
While the virus poses a universal threat to all, its biggest impacts are aligned with age, gender, social class, income, lack of access to clean water, good nutrition and health services, race, ethnicity, education and geographic location. In short, it is the poorest and most vulnerable who have been impacted the most. The Covid storm has laid bare the inequities, corruption and injustice that have long existed and the ugly underbelly and machinations of those in power and the catastrophic failure of government, which has acted in the interests of the few, including their own.
These injustices and inequities have long been propping up deeply flawed political and economic systems. The measurement of wealth by GDP growth has failed us – and is deeply flawed, measuring the cost of responses to environmental crises as a positive contributor to GDP – and failing to account of the damage and destruction of degraded systems and their long term impact. These systems and the states that institutionalize them, rely for their prosperity on irrational and unsustainable practices that devalue life – both human and animal – and are decimating the Earth. At best, these state actors pay lip service, only, to respecting human rights and treaties – including international and national.
Scientists are warning that we are now experiencing a sixth extinction on a scale not seen since the extinction of the dinosaurs. Over the past 540 million years, the previous five extinctions experienced on Earth resulted in the loss of three-quarters or more of all animal species. The difference is that those events were precipitated by naturally induced events. This time, it is human activity that has wrought such catastrophic damage.
In the past 50 years according to the WWF's 2018 Living Planet report , humans have managed to destroy 60 per cent of the world's mammals, birds, reptiles and amphibians, while threatening a further million plant and animal species with extinction. We have killed half the world's coral reefs and cleared half the world's tropical forests. We have polluted and fished out the oceans, shrunk the Arctic and Antarctic summer ice, unleashed deadly viruses and bacteria, brought on droughts, heatwaves, desertification, fires, flooding and storms as a result of fossil fuel greenhouse gases, along with water and food shortages.
Our world is facing an existential crisis of our own making. Covid19 is a symptom of the fracturing of the natural systems that we each rely on and a failure by governments to represent the interests of the many. Our very existence is in peril. Not even the wealthy will be immune.
The movements we are seeing, including Black Lives Matter and climate action, are a response to these failures, and are inextricably linked, demanding justice, action and accountability. We are all being called on to take action to shape the shockwaves of this storm into a truly sustainable future in which disparities and inequalities are addressed and constructive and cooperative global engagement are implemented. This means taking action in our own communities and lives – and also to demand accountability from those in power, which might include stepping into the political arena and seeking election to address the linked crises of inequality, climate, water, energy and mass extinction.
The pandemic was recently described as "a wake-up call…for business and government to think, act and invest for the common good." This was not the exhortation of a fringe socialist revolutionary – this call was made by JP Morgan's chief executive, Jamie Dimon.
Inequality, injustice and poverty must be declared to be the global emergencies that they are. So too, must global warming. These are inextricably linked. A new economic model, Doughnut economics must replace the existing mainstream economics of GDP growth, which operates in a vacuum – where the natural world, human society, wealth and power are non-existent. By contrast, the model of Doughnut economics puts these at the centre, where the needs of all are met within planetary boundaries and in which prosperity is measured by shared social, health and environmental benefits. Nothing less than a transformation of political and economic behavior and systems is called for. Democracy needs to work for all of us, not just the few. What we have today is not democracy. It is feudalism.
This is our wake-up Call.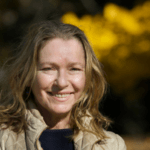 Joëlle Hervic is CEO of Human Dimensions TV and Rainbow Crow Productions. She is an environmental attorney, lawyer and advocate and passionate about Mother Earth and advocating for the rights of people and the planet. She has worked on several continents that has included making a case on behalf of the community in Ecuador on the right to water. Wishing to communicate to a broad audience the need to take global action to address climate change, and to restore health to the planet and to ourselves, together with Human Dimensions TV and Rainbow Crow Productions colleagues, award winning Creative Director, Mark O'Brien and under the guidance of Gary Dorr, Native American Technical Advisor and Consultant, screenplay "Journey Home" was born. Written by Mark O'Brien, "Journey Home" is an award winning screenplay that inspires action and sounds a warning from the future about our present path that is threatening the health of the planet and the survival of all life on Earth. "Journey Home" reconnects us to indigenous wisdom and understanding that our own health is inextricably linked to planetary health and that we are all warriors . It helps us understand that our destiny is in our hands and that we have the power - and the responsibility to future generations - to shape our future.