Music, poet Khalil Gibran wrote, "is the language of the spirit. It opens the secret of life bringing peace, abolishing strife."
There is no better time than today to connect with the healing power of music. The Celtic Salmon is an Internet radio station that features eclectic mixes of music from around the world to soothe your soul, awaken your spirit, and touch your heart. This is real music selected and arranged for your pleasure by a human – not an algorithm!
Created by former radio disc jockey/producer, Robert Mark O'Brien, the Celtic Salmon (which signed on in 2008) is the offshoot of "A Feast for the Chieftain," a program of Irish music he produced in the late 70s-early 80s for Alaska Public Radio.
The joy and sadness, moody, and timeless quality of Irish music is featured each Tuesday, Thursday, and Saturday. Everything from traditional and contemporary folk to Celtic rock and beyond – the sounds will resonate deep within you. WARNING – you may experience an urge to dance "round the house," so be sure to "mind the dresser!"
To fill a 7-day 24/7 schedule, Mark has expanded into other genres. But regardless of what day you tune in to the Celtic Salmon, you will hear music that resonates within you and speaks to your spirit.
Weekly Schedule:
| | |
| --- | --- |
| Monday | World Beat and Ethnic Fusion |
| Tuesday | Irish/Celtic |
| Wednesday | Rock (progressive, hard, soft, and pop) |
| Thursday | Irish/Celtic |
| Friday | Americana (Native American, Blues, Bluegrass, Country, Soul, and Rock 'n Roll) |
| Saturday | Irish/Celtic |
| Sunday | New Age, Gospel, Meditative, Pagan, Healing, and Contemplative |
The Celtic Salmon is currently licensed to stream in the US, Canada and the U.K. Tune in anytime to "Music for Your Spirit."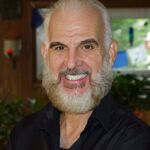 Robert "Mark" O'Brien is an award-winning writer/producer/director, creative consultant, actor, artist, and co-founder of Human Dimensions TV. Mark's interest in Indigenous people and respect for nature were ingrained in 1979, when he first arrived in Alaska and experienced the spiritual majesty of Denali - North America's tallest mountain.
Mark teamed up with Joëlle Hervic to form HDTV while visiting the Suquamish Tribe on the banks of Puget Sound. Together with Joëlle and with guidance and insight from Neil Dougan, Mark wrote "Journey Home," an award-winning screenplay about the spirit of an American Indian warrior from an apocalyptic future who returns to present day where he must find and inspire the one child (a young girl) to save the planet for future generations. Mark and Joëlle continue to build a diverse coalition of Native American artists, academics, tradespeople, advocates, and investors to seek funding and transform "Journey Home" into an important and inspiring work of hope.